"I believe in the power of networking and human relationships, which is why I am fascinated by the immense web and social networks that shorten distances and create amazing emotional connections. I like to think of the process of storytelling and sharing as the search for a harmonious synergy between words and images, combining them with creativity and empathy to elicit unique and memorable perceptions. Teamwork is the basis for success and achieving excellent results".
My career path
The journey has always marked my path of studies and curiosity has led me to explore territories and cultures distant from mine. Graduated from the three-year course in Foreign Languages and Cultures with a specialization in Spanish, English and Russian, I later chose to direct my path in the direction of territorial marketing and communication, attending the Master in Management of Artistic and Cultural Resources at the Rome branch of the University IULM of Milan. Upon completion of my academic studies, I obtained my Master's degree in International Communication for Tourism, from the University of Turin.
In recent years I have had the opportunity to work and collaborate within the Junior Enterprise network; first in JEToP – Junior Enterprise of the Politecnico di Torino and now in JE Italy – Italian Confederation of Junior Enterprise. A training for life, which gives the opportunity to enter the world of work and experience personal and professional growth. Here I deepen my knowledge and skills in the digital marketing and communication area and pursue my passion for writing by learning and perfecting copywriting and content marketing techniques.
My work at EGO NewCom
I deal with SEO Copywriting to help the optimisation of the positioning of websites on search engines and, at the same time, I manage the company blog. I also work as a Junior Social Media Manager, writing editorial plans for social networks, creating text content, monitoring and analysing social data. I collaborate in the design of email marketing campaigns, and I personally take care of the management of mailings and drafting texts.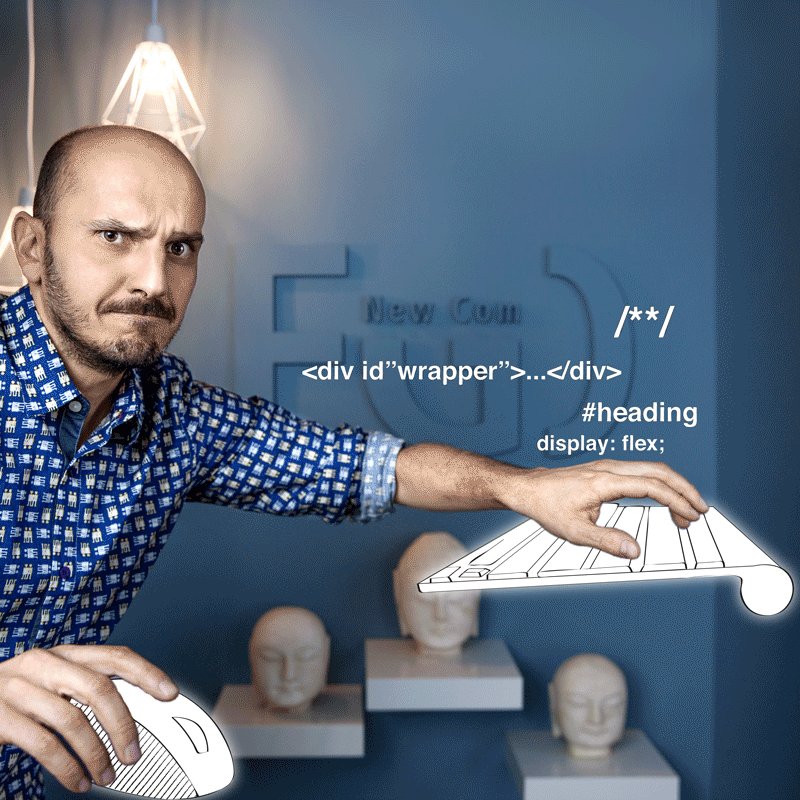 "Company reliability, its Brand Reputation and its in the market, is filtered immediately thanks to a unique and characteristic Digital Strategy. Website is nowadays a real company showreel, an organic and structured item that reflects the vision/mission of a company giving to users an immersive experience in their own world values".
My professional experience
I awarded a degree in Telecommunication Engineering at Politecnico of Turin and then I studied at IAAD University where I got a diploma in Communication Design.
I immediately started my career as a multimedia developer for the mobile Company Motorola and then I designed a home automation system at Urmet Domus. Over the years, in which websites have witnessed a real graphic and communication evolution, I became Web Designer and I developed many apps for iOS. Today I'm an expert in User Experience and User Interface and I develop websites in several different sectors. Moreover, I'm a Web Design professor at IAAD University.
My job in EGO NewCom
I manage all the UX and UI for the websites of our customers as one of the main important keys of Brand Awareness, Brand Image and marketing strategy.
"Studies and researches confirm that the 50% or more of the website traffic is from search engines (as Google) and that researchers seldom goes beyond the first page. In order to get higher rankings in search engines, it's essential to systematically apply the most up to date SEO techniques".
My professional experience
In 2008 I started to work in the web sector as a Java Software developer J2EE and then I became Web Specialist. From 2012 to 2015. I worked on hotellerie sector and I planned all the digital marketing strategies of SEO on-page (websites optimization) and off-page (link building, direct links and SERP). I got a communication degree at IAAD University in order to focus my studies in this complex field.
 My job in EGO NewCom
I manage all the SEO digital marketing strategies for customers' websites in order to achieve the highest possible ranking in search engines. This is an extremely specialized and involving field: the continuous changes of Google's algorithms require constant updating on keywords and traffic data analysis in order to reach company goals.
What does inspire our job?