Social media are modern and powerful marketing tools. They're platforms for telling stories, interchanging ideas and essential tools to keep brand closer to their targets in a smart, efficient and intuitive way. Planning, analysis and great contents are the essential bases for a cost-effective social media strategy able to engage and to inspire a strong brand passion into consumers' mind. If there aren't these elements, the risk is to transmit the idea of a not interested brand to its costumer.
My professional experience
I awarded a degree in Foreign Languages for Tourism, in English and Spanish, and then I got an important master in Marketing & Management at Cattolica University in Milan, focusing my attention especially on Digital Marketing in order to become Social Media Manager. Here I was able to achieve, with my team, the victory for the most important project of the entire academic year: "The best integrated marketing strategy at 360°" for Buitoni Nestlé Italia. After all my studies, I worked as Social Media Manager Assistant for the marketing department of NH Hotel Group BU Italy: here I dealt with the daily management of 5 social channels, the creation of editorial plans, the design of all the contents and the promotion of the brand. I even created and opened the current official Instagram account of the well-known hotel belonging to NH Hotel Group, Nhow Milano, a design and fashion hotel in Zona Tortona, the main hub of the international annual Milanese event "Fuori Salone".
My job in EGO NewCom
I manage all the Content Strategies for the Social Media of our customers, from the creation of contents to editing editorial plans, publishing the posts and community management. I even apply storytelling techniques. As Social Media Manager, I need to be well-informed on everyday trends and apps updating, and to have a well knowledge about: Social Media Analysis, Copywriting, Photography, Editing and Videomaking.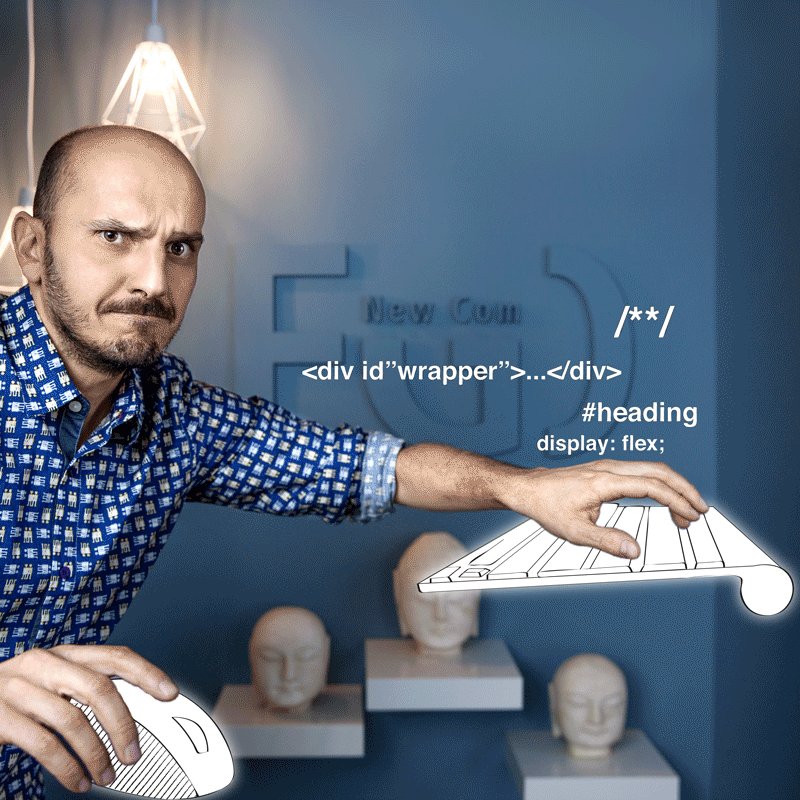 "Company reliability, its Brand Reputation and its in the market, is filtered immediately thanks to a unique and characteristic Digital Strategy. Website is nowadays a real company showreel, an organic and structured item that reflects the vision/mission of a company giving to users an immersive experience in their own world values".
My professional experience
I awarded a degree in Telecommunication Engineering at Politecnico of Turin and then I studied at IAAD University where I got a diploma in Communication Design.
I immediately started my career as a multimedia developer for the mobile Company Motorola and then I designed a home automation system at Urmet Domus. Over the years, in which websites have witnessed a real graphic and communication evolution, I became Web Designer and I developed many apps for iOS. Today I'm an expert in User Experience and User Interface and I develop websites in several different sectors. Moreover, I'm a Web Design professor at IAAD University.
My job in EGO NewCom
I manage all the UX and UI for the websites of our customers as one of the main important keys of Brand Awareness, Brand Image and marketing strategy.
"Studies and researches confirm that the 50% or more of the website traffic is from search engines (as Google) and that researchers seldom goes beyond the first page. In order to get higher rankings in search engines, it's essential to systematically apply the most up to date SEO techniques".
My professional experience
In 2008 I started to work in the web sector as a Java Software developer J2EE and then I became Web Specialist. From 2012 to 2015. I worked on hotellerie sector and I planned all the digital marketing strategies of SEO on-page (websites optimization) and off-page (link building, direct links and SERP). I got a communication degree at IAAD University in order to focus my studies in this complex field.
 My job in EGO NewCom
I manage all the SEO digital marketing strategies for customers' websites in order to achieve the highest possible ranking in search engines. This is an extremely specialized and involving field: the continuous changes of Google's algorithms require constant updating on keywords and traffic data analysis in order to reach company goals.
What does inspire our job?